Well thats me and the Pie Scoffer back home after 2500+ miles across europe to the south of france, so i heres a review of the trip and a few pics
We caught the ferry at North Shields over to Amsterdam, the ride down to the ferry was a easy, though we were both a bit nervous as apart from the ferry trip we had made no other plans, apart that is from get off the other side and head south
This is us waiting to board
Once on board we started to relax a bit after a beer or two
The ferry was an over night one, so an early night, not that we got much sleep as the sound of the engines kept us awake.
The next morning we rode off the ferry and started to ride across the Netherlands, we had decided to avoid motorways on the trip down, which in hindsight was a big mistake, as the Netherlands is the most boring place to ride through, with traffic lights every hundred metres and suicidal cyclists, unless your heading to Amsterdam for a Shcmoke
my advice would be off the ferry and straight on the motorway as its so frustrating trying to ride through it.
First day saw us get through the Netherlands, Belgium and Luxemberg (none of which are remotely interesting for Bikers, too flat and too boring, only good for Dope,Chocolate and MP's) we eneded the first day just South of Metz in France, it was dark when we arrived at the campsite so no pics.
Heres a pic of one of the chain ferries we had to use to cross the many rivers in the Netherlands
Second day saw us heading from Metz toward Lyon,with a nice morning stop for fresh coffee and coissants.
The roads started getting better with some great scenery, though the Sat Navs took us on some interesting roads, including some tiny little back road up a mountain and through massive Olive Groves, smelt fantastic, had to be a bit carefull as there was nothing to stop you going straight over the edge should you come off, no guard rails nothing, just a sheer drop
I should mention at this point French drivers, they are ace, and as soon as they see you coming up behind them, they will litereally drive in the ditch to give you room to get past, if only British drivers were so considerate.
End of the second day saw us just south of Lyon, in a little town called Vienne.
Our second camp, after a day of riding in 95 degree heat it was a relief to get stripped off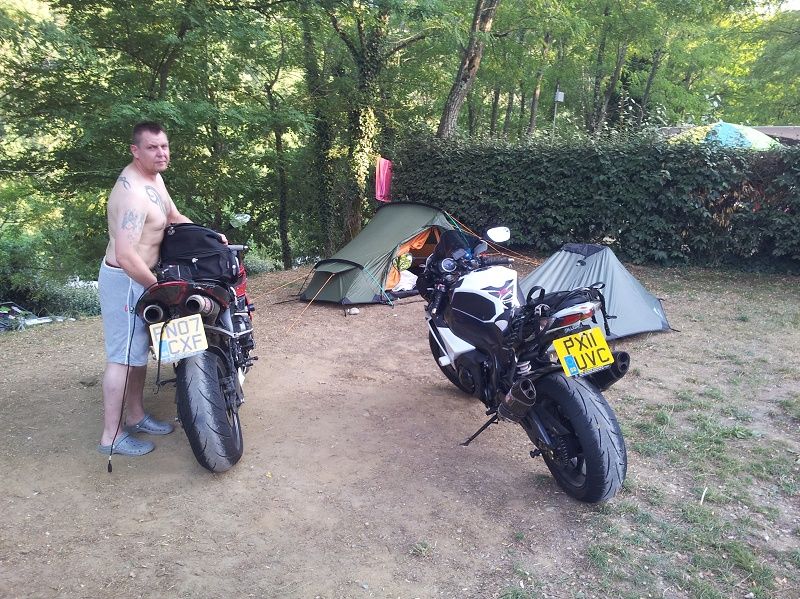 Up nice and early on day three, ready for the last leg down to Collioure in the south of France near the Spanish border, we rode out of the campsite and straight away began climbing, up and up we went, then as we crested a rise and came down round a long left hander, there beneath us was the Rhone valley, what a fantastic sight, i only wish we had stopped to take a picture, it really was breathtaking looking down that valley from up so high.
We then spent the next 15 or 20 miles riding up and down the mountain on the best bit of road i have ever been on, corner after corner, all constant radius, smooth and so wide, with hardly any other traffic to disturb us, we stopped about halfway as we were both just so fucking amazed.
It was at this point we realised we had both completley edged our tyres and needed to start hanging off a bit more before we ran out of tyre
We finally got to our destination around 2pm and met up with the wives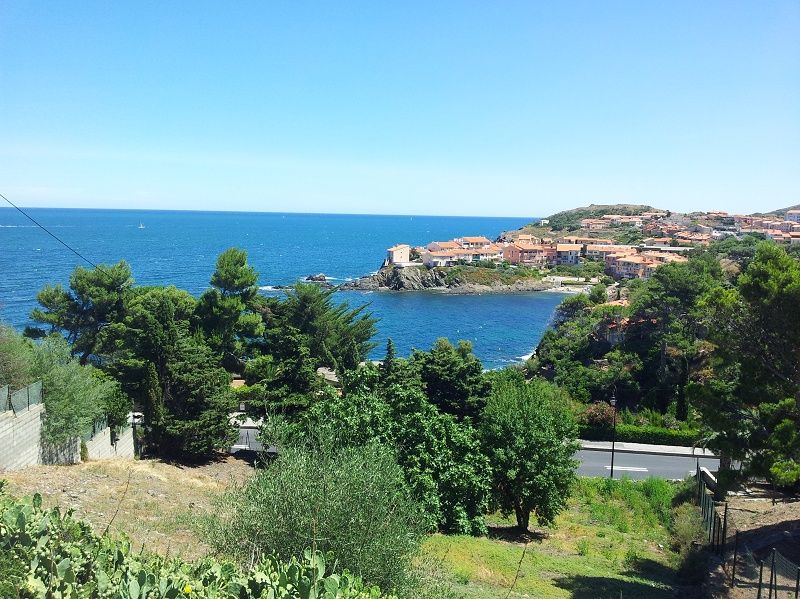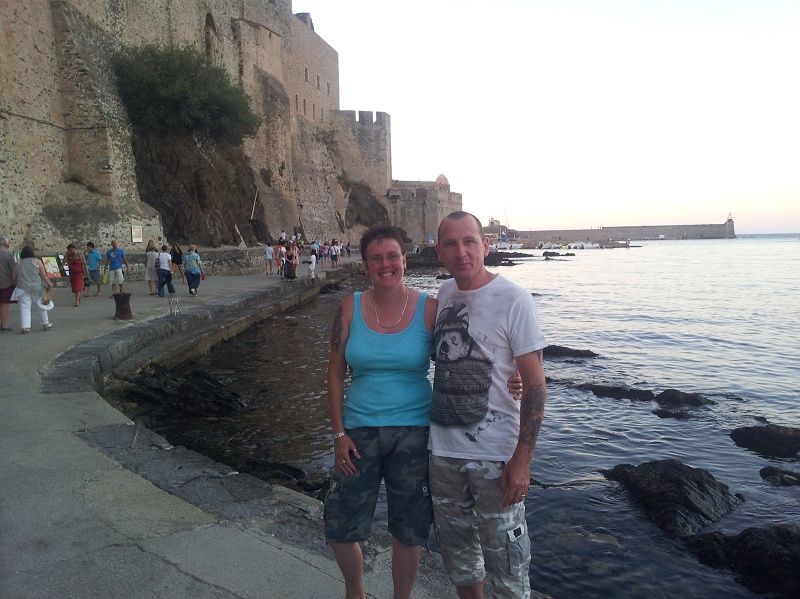 So after a week of sun,sea and great food, it was time to head back, which we did via the motorways and toll roads as we had to get back to catch the ferry, at one point the road took us up over a mountain range, so high we were actually getting wet from low clouds, which is when we went across the most awesome bridge i have ever seen,the Millau-Viaduct, it spanned two mountians and went right across the valley, fuck me it was spectacular, and so high up.
We did 451 miles on the first days trip back and ended it with a nice cold, well deserved beer.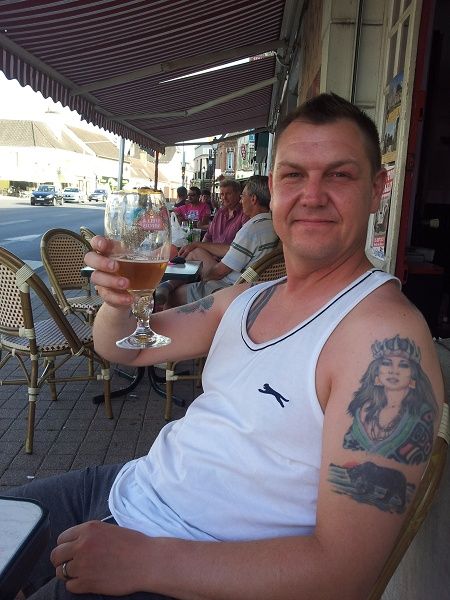 The other two days were just riding, with nothing much to report back, once we had crossed the border out of France the riding got pretty boring again, we were just mile munching to get back in time.
And thats about it really, a bloody amazing trip, made all the more interesting by us not planning ahead, just going where we wanted and then finding a campsite.
People said we couldnt do a euro tour on sportsbikes, but we proved them wrong 2500+ miles on a Gixer and an R1, both bikes performed flawlessly and our choice of tyres worked out well, Carl on Maxxis Diamonds and me on Dunlop SportSmarts, both have loads of tread left, and never let us down once.