Master Pie Muncher
Posts: 10178
Images: 0
Joined: Tue Dec 07, 2010 12:03 pm
Location: Cumbria
With the rear wheel about midway through its travel in the swingarm slots, wrap the chain around the sprockets to gauge how long the chain needs to be. This 120-link chain needs to be shortened to 110 links. Count the number of links you want to take off. Count again. Maybe again. Mark the rivet. Make sure you will be left with a link that a masterlink can go into.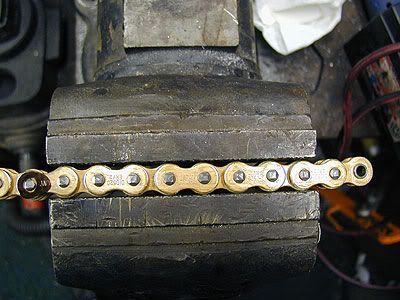 New chains come with the rivets staked or peened over so they won't fall out. To push one out with a rivet remover you should grind the offending rivet flush to not strain the rivet removing tool. The machine that peens all those rivets must be quite a thing.
After grinding, you end up with something that looks like this.
Use a rivet press to drive the rivet out.
Master link greased up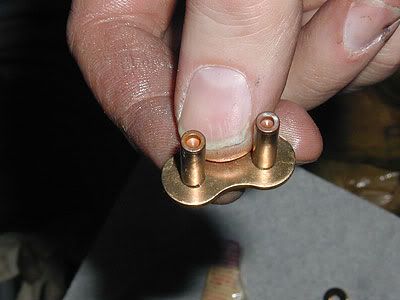 Thread the chain over the front and rear sprockets on the motorcycle, and get the master link ready by rounding up the o-rings and gacking them up with lube.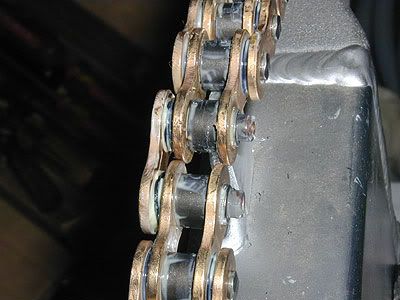 Hook the chain together with the master link.
Put the remaining two o-rings on the master link rivets and start the side plate on as best you can with your fingers.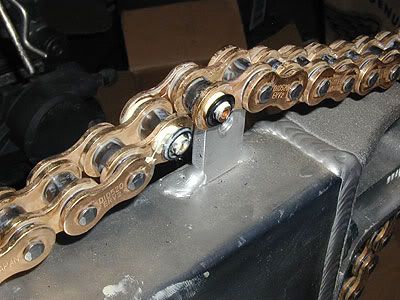 Partially press the plate on by squeezing the plate onto the rivets with pliers or Vise Grips. Alternate between ends to get the plate on evenly. Eventually the rivets will be flush with the side plate. Next find the tool to push the side plate on the rest of the way.
This RK rivet tool comes with two plates for pressing on chain side plates. One plate has a deeper groove and is designed for use with a clip-type master link. The other plate is for pressing the side plate onto a rivet-type master link. The rivets must be exposed enough to squash out so the side plate can't come off.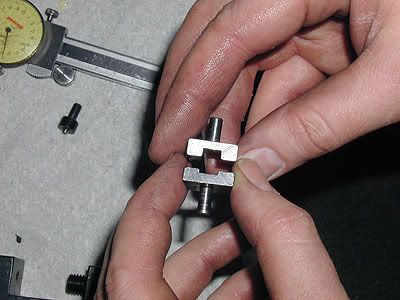 Drive the sideplate on until the groove in the tool plate bottoms out on the heads of the rivets.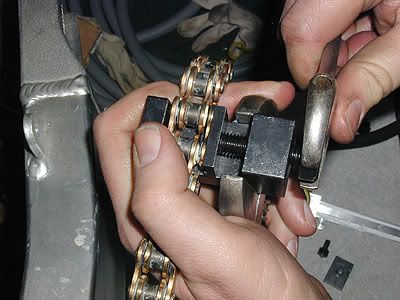 The link should still move freely.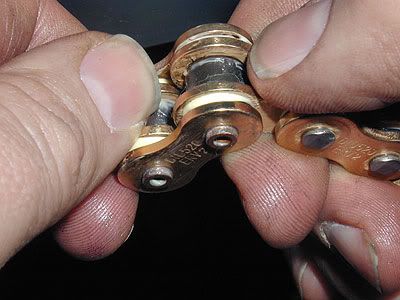 Remove the tool and replace the plate with the conical rivet expander. Drive the nose of the expander into the indentation in the end of the master link rivet to spread it out such that the sideplate can't come off.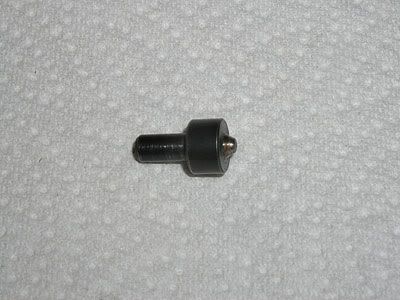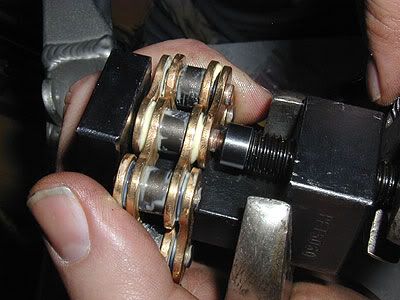 Measure the outside diameter before and after forcing the expander into the rivet. Usually about 0.4mm of change will ensure that the rivet has expanded sufficiently to keep the side plate from coming off. If you try to expand it any more than that you can crack the end of the rivet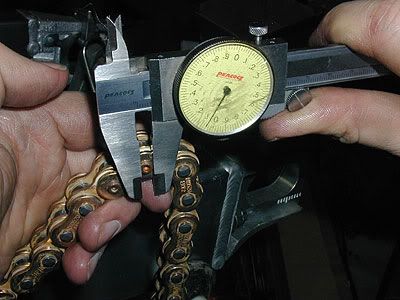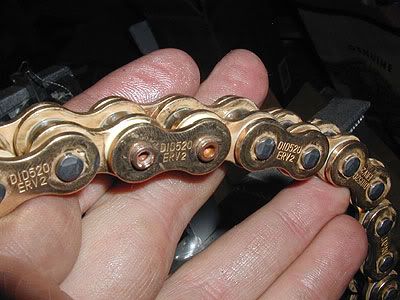 done