You won't like it when i'm angry!
Posts: 2231
Joined: Tue Dec 07, 2010 4:45 pm
Location: Carlisle
Just spent an interesting hour trying to figure out why the PCV i have is different from the one in the instructions for the GSXR 1000 K9-L1
I have the correct PCV for the K9-L1 but the instructions tell you to use the supplied connector for the TPS connection.
Mine never had that connection, just two wires either end of the PCV loom with pinch connectors.
Nothing on the Dynojet website about it, so was getting a bit pissed off until i manged to find another site with an answer.
Now either there are seperate versions between USA/UK/AUS (doubtfull) or the one i have is an earlier model (most likely) so if you pick one up cheap off ebay and its the one with the extra wires this is where they go
Attach the GREY wire from the PCV loom to the PINK/BLACK wire on the 3 pin green connector which sits between cylinders 2&3
Attach the BLACK/WHITE wire from the PCV loom to BLACK/BROWN wire on the ECU (pin #35 on the black ECU plug) i found removing the battery gave better access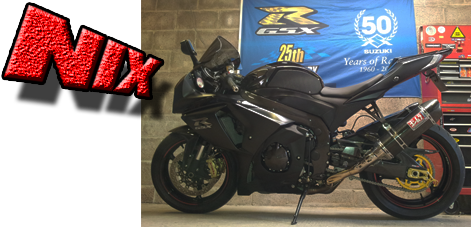 Southerner living in the land of the Northern monkeys
http://www.facebook.com/Nix68